As some of you may know, we've worked with Queen's Hall Arts Centre (QHA) for over ten years on a wide number of projects including exciting launches, plays and exhibitions.
Hopefully you've seen some of our creative design take pride of place at the gallery in the centre of Hexham. One of our favourite projects is designing the seasonal programmes for the venue - always a pleasure.
This year we've been pleased to support the gallery's ART with HEART Auction which is a charity art auction and exhibition developed by QHA working in partnership with Tynedale Hospice at Home. It aims to raise funds to develop arts-based activities to support bereaved children who have lost or are losing a loved one.
It's a truly worthwhile cause and we're grateful to be part of something special as the event design partner. Ros, our head of design has worked closely with QHA to create the auction programme and posters for the event to encourage people to give generously. She's looking forward to the ART with HEART closing party and learning how much has been raised for this great cause.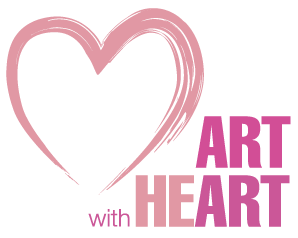 Over 60 professional artists have donated 80 pieces of work including high profile artists Antony Gormley, Sue Moffitt and Rob Ryan. The works of art up for auction are available to view online - www.artwithheartauction.org.
The exhibition features a wide variety of works using a range of materials, processes and subject matter so there's something for everyone! If you're an art-lover or new to the art scene - this is one not to miss.
The auction is open until 9pm on 28 September so don't miss out and place your bid now.